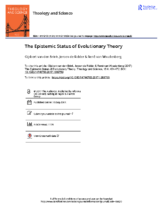 The Epistemic Status of Evolutionary Theory
The theory of evolution continues to be a bone of contention among certain groups of theistic believers. This paper aims to bring some light to the debate about it, by introducing a framework for epistemic appraisal which can provide a realistic and sober assessment of the epistemic credentials of the various parts of evolutionary theory. The upshot is a more nuanced epistemic appraisal of the theory of evolution, which shows that there are significant differences in epistemic standing between its various parts. Any serious conversation about the theory of evolution ought to reflect these facts.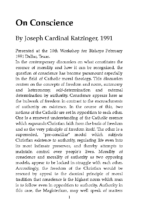 On Conscience
Can someone's conscience be wrong? Some people think conscience is infallible. But even most of them would have to admit that people should not be free to do whatever they want–murder, steal, lie, etc.–provided their consciences approve. Conscience, then, cannot be infallible. Not unless there is no such thing as moral truth, writes Joseph Ratzinger, now Pope Benedict XVI. In other words, no unless there is no such thing as right and wrong, and not unless we cannot condemn as truly evil the genocide of the Holocaust, for example, or other instances of mass murder. On the other hand, if conscience and be mistaken, then there must be some kind of moral truth, some things that are really right and others that are really wrong. WE must have some way to know the difference–some way to correct our consciences so that we judge rightly what is good and what is evil. So how do we know the truth that our consciences should follow? How do we correct a mistaken conscience? In two insightful essays, written before he was pope, Benedict XVI thoughtfully considers these and other crucial questions, including the role of Church leaders in helping people form their consciences.